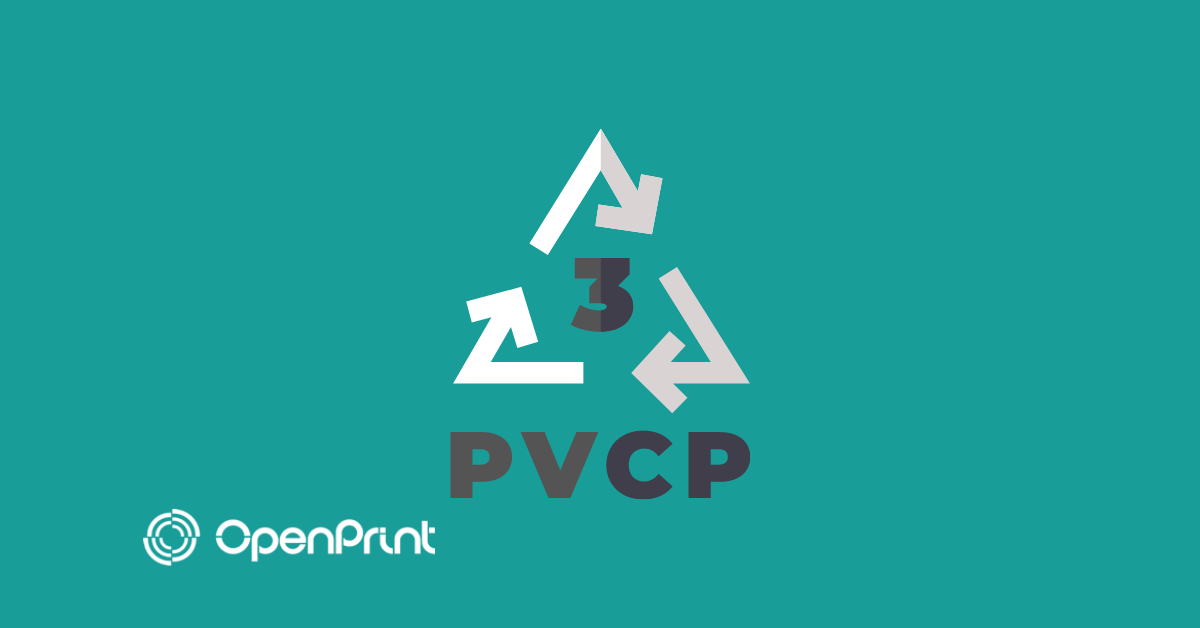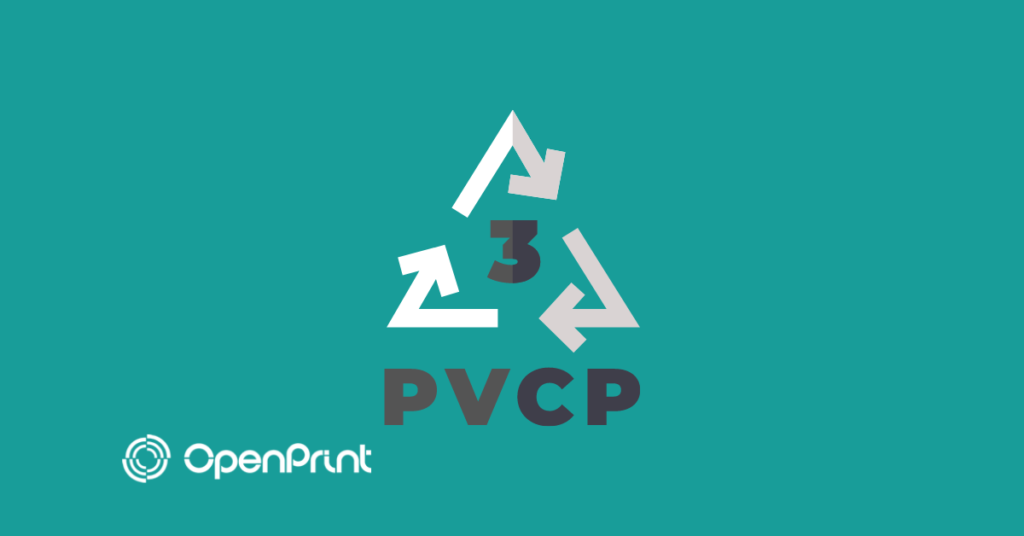 In the last decade, the population's knowledge about the harmful effects that PVC causes, both for people and for the environment, has increased. For this reason, we believe that as a printer that defends sustainability, we have a responsibility to offer our customers alternatives to PVC printing.
There are many drawbacks to using PVC in the printing industry and it is very easy to use alternative PVC-free media. From OpenPrint, as graphic printing specialist,  we want to make it easy for you and advise you on the development of your new sustainable project. Keep reading the article and discover everything you need to know to get it.
Why look for alternatives to PVC printing?
PVC, Polyvinyl Chloride, is a type of plastic that has a series of interesting characteristics and advantages that make it the most widely used plastic worldwide. It is a light, resistant, thermal, electrical, and acoustic insulating material, innocuous and waterproof. It has a durability of more than 50 years and, most importantly, its value for money, compared to the rest of the family of plastics, is one of the best.
In our day to day, it is present in an endless number of applications. It can appear in all possible forms since it has a thermoplastic capacity that makes it possible to transform it into any desired appearance; plastic bottles, pipes, windows, furniture, toys …
PVC plays a very important role in most sectors of our economy; construction, medical applications, automobiles, electricity and electronics, footwear, agriculture, stationery….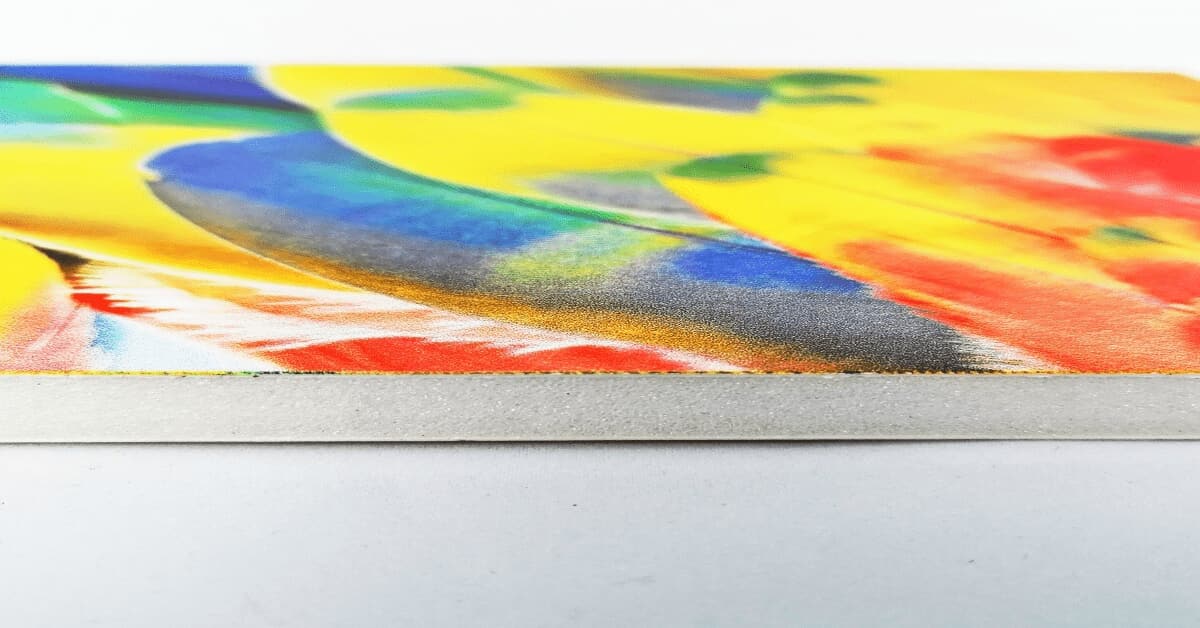 In our printing sector, this material is present in many media used to create advertising displays, print photographs, canvas for commercial announcements, and much more, so we must take it into consideration.
The problem of PVC comes when we want to know its impact on the environment. For this, it is necessary to observe the entire useful life of the material, its production, development, use, and even its recycling (transformation into waste, disposal, or treatment).
Polyvinyl chloride is composed of chlorine and this means that it is a material that, when produced, used, and recycled, expels a series of toxic substances for people and the environment. Also, depending on the manufacturer, this material may contain additives that at some point in the life cycle of the product escape from the material and may become toxic to the environment in which it is or the food it contains if heated (tuppers or bottles). of water).
Today, thanks to public awareness and new knowledge about this element and its toxicity, most companies have replaced this type of plastic with another less harmful to health.
OpenPrint is committed to sustainable printing, and that is why we give our customers the option of being able to use much more environmentally friendly PVC-free media for their sustainable events or brand promotions.
Printing sustainably is a big step towards saving our planet. In addition, the belief that what is sustainable or ecological is more expensive has been left behind. Our ecological PVC-free supports are the same or can even be cheaper than the rest.
The best alternatives to PVC printing
As a sustainable printing company, we know that there is a lot of ignorance regarding more sustainable options but just as economical as PVC. That is why at OpenPrint we have decided to create this article and show you a series of alternatives to PVC printing;
Rigid supports
There are different types of rigid supports, some more suitable for indoors and others for outdoors. Here are the most important ones:
1. Dispa
It is one of the most used ecological materials for advertising campaigns and posters at the point of sale and it is also made 100% with cellulose, so it is fully recyclable. It has incredible printability, rigidity, and stability.
This is considered an ecological foam board. It is composed of a white cardboard panel with a 2-wave waffle-shaped core. It is not recommended for outdoors, as it is made of paper, but indoors it can have unlimited durability.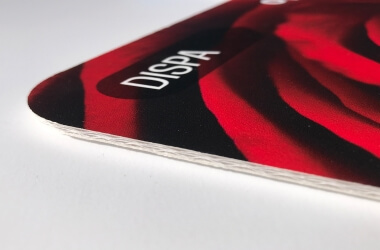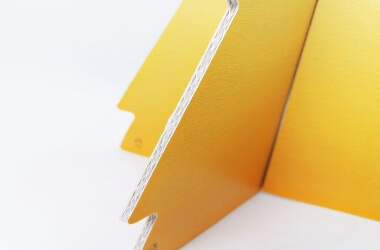 2. Abiplex
The rigid Abiplex support is 100% recyclable and is formed by joining two kraft cardboard sheets with 200g white coated paper on both sides, thus creating a super resistant and very light product.
It has infinite forms of uses: ecological decoration furniture, fair stands, point of sale customization, products with an infinite number of forms, promotional furniture …
3. Wood Print
Wood Print is the process of reproducing text or images on a wooden surface. It offers original and advantageous results for those businesses that want to differentiate themselves from their competition.
This technique can be done on different types of wood such as birch and pine, among others. You only need to choose the type of wood, its dimensions, and the digitized design you want to use. It is a technique that respects the environment, since wood is a natural element and, therefore, biodegradable. ¿Would you like to know more about this material and what is technique used for? Visit our article about what is wood printing or wood print.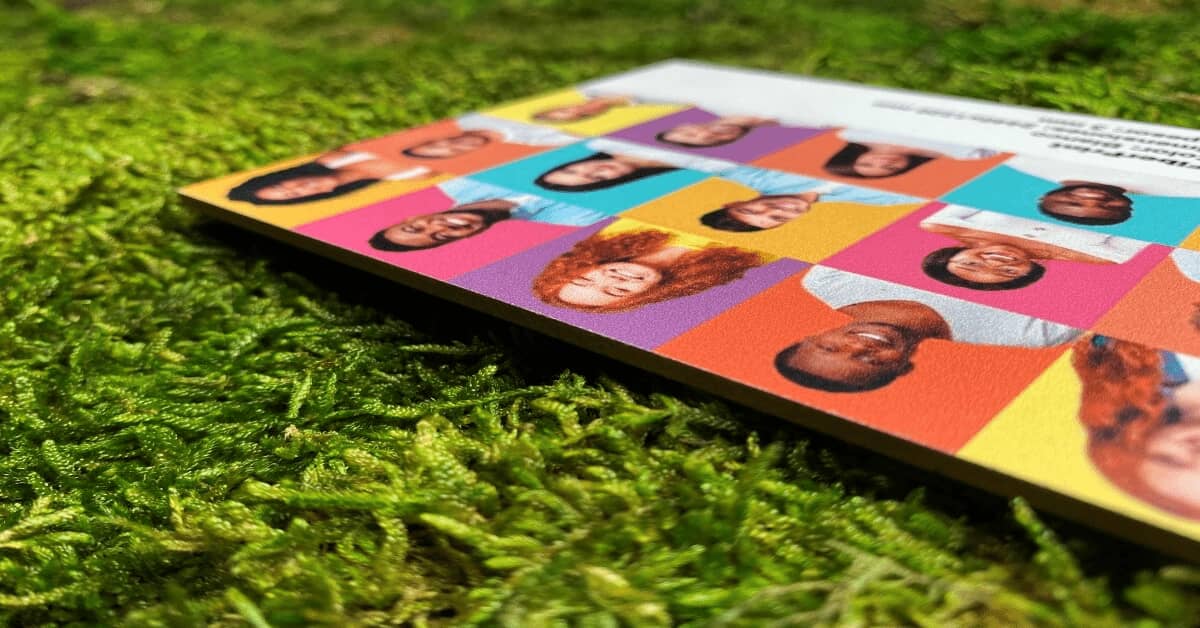 4. Alveolar polypropylene
It is an element characterized by its lightness, resistance to weathering, rigidity and for being an opaque material. It is resistant to water, humidity, grease, and chemical agents. Its surface finish makes cleaning very easy. It is also very easy to handle.
Although it is a material made of plastic, it is free of PVC, making it totally reusable and therefore respectful to the environment. It is almost as strong as PVC and offers more rigidity.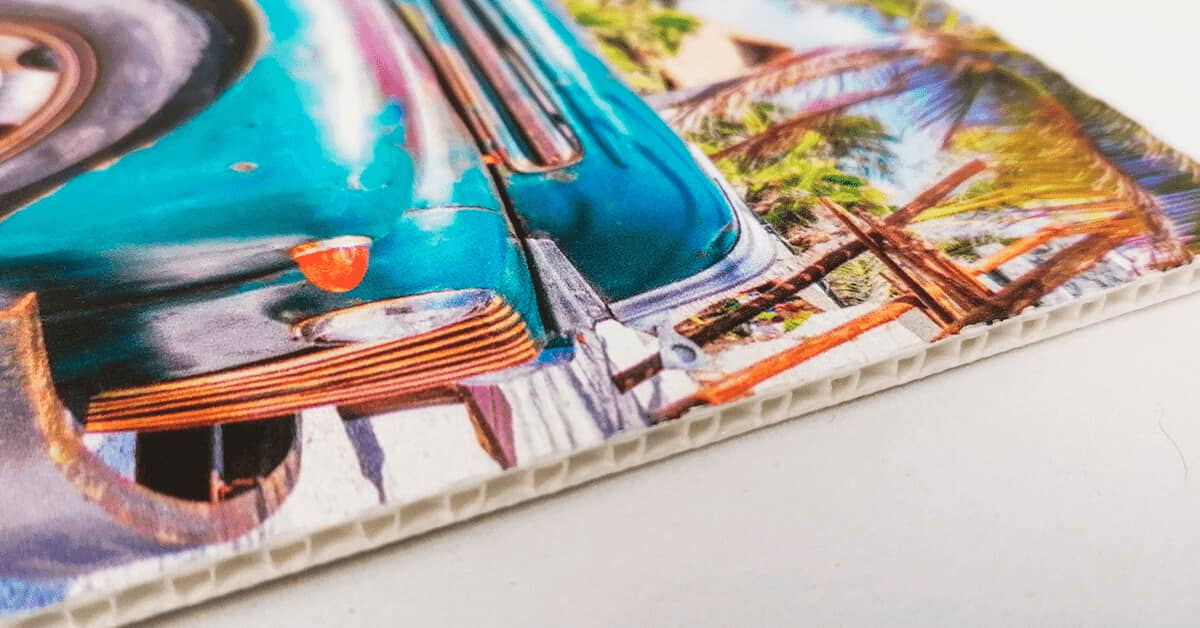 Flexible supports
There are different types of flexible supports that you can use in your advertising and marketing projects. The most widely used are:
1. PVC-free canvas
Unlike other types of canvas, this one is made with materials that do not harm the environment. Materials that easily degrade and are reusable are used for their manufacture. Meanwhile, printing can be limited to the use of materials that do not produce toxic emissions (VOC, very common in plastic and chemical compounds).
They are also tarps that have protection to resist exposure to environmental compounds (such as UV rays). That is why it is a long-lasting format and can remain for a good amount of time without degrading or breaking.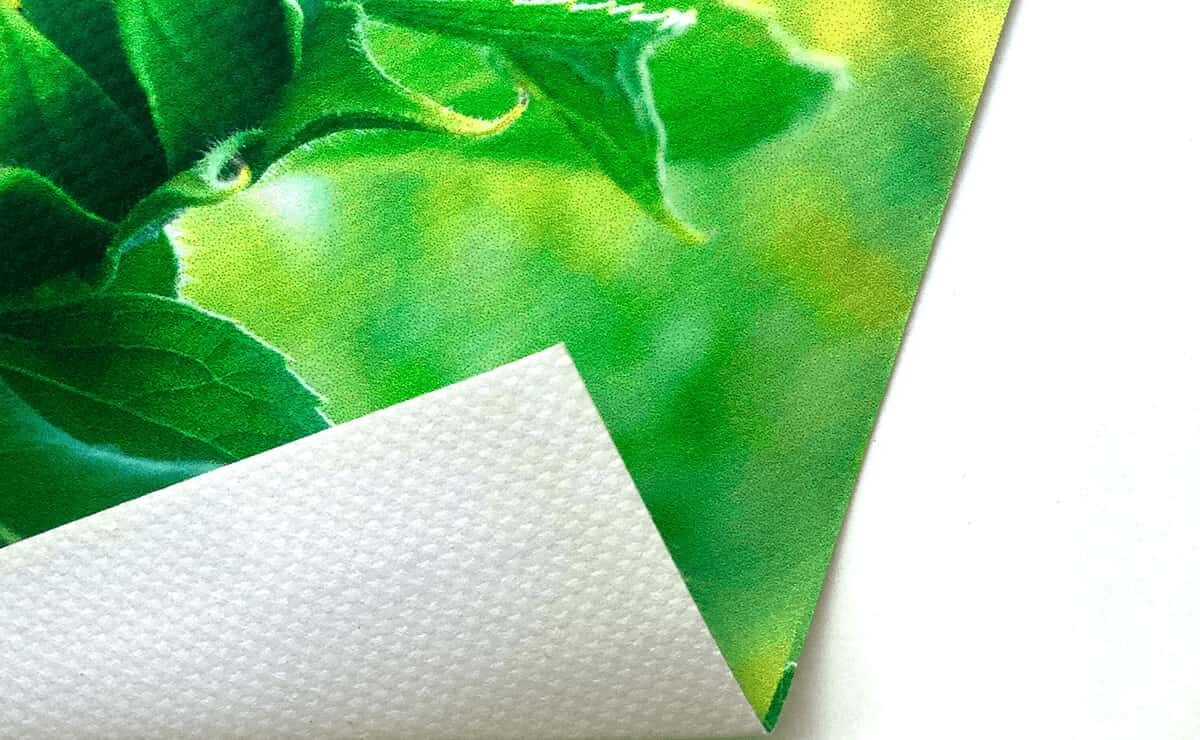 2. PVC-free polypropylene vinyl
These types of vinyl are made of polypropylenes, the most neutral type of plastic for the environment and for the health of the population. It is still just as adherent and resistant material compared to traditional pieces of vinyl. It also continues to maintain the affordable price, making it a great choice that will only provide a series of advantages to your company.
Conclusion
After having learned all the inconveniences of PVC material and all the different ecological supports that replace it, you have no excuse to carry out your advertising work in a sustainable way, and as we have said, at the same price and with the same quality as always.
Trust OpenPrint to develop the project you have in mind and we will make sure to carry it out in the best possible way and with the greenest options always. Do not hesitate to contact us and ask us any questions, we are here to help our clients and their businesses.
Share it at your Social Networks
You may also like...